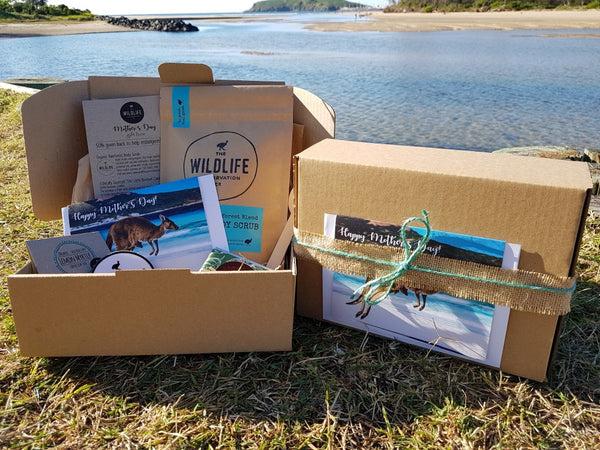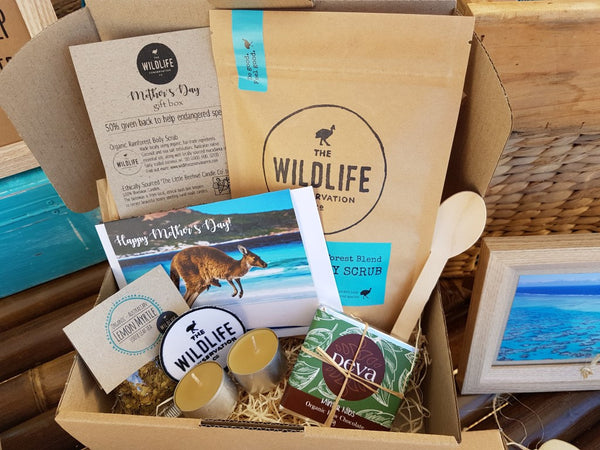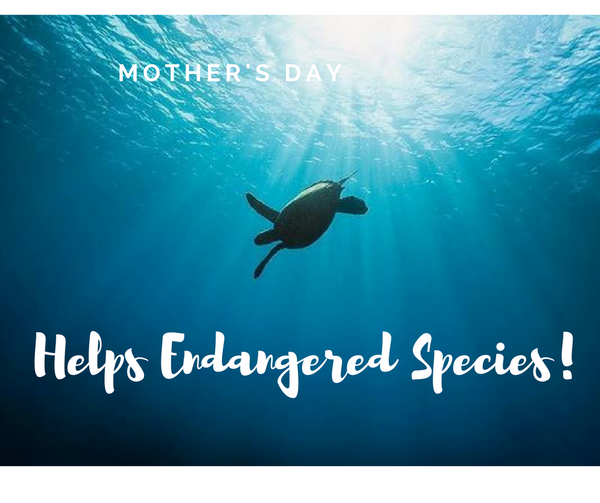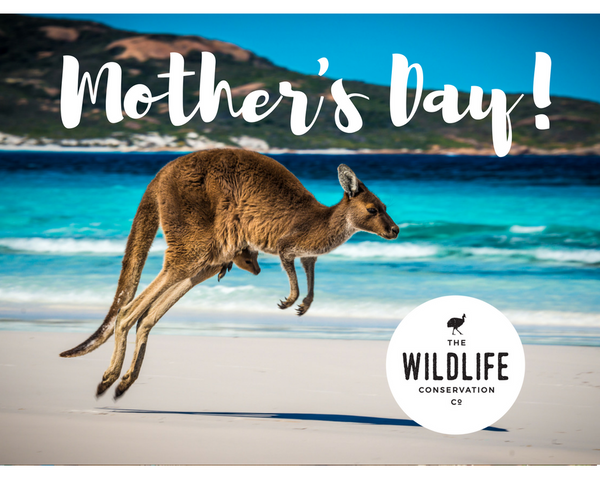 Mother's Day Eco Gift Pack - Large | FREE Shipping | Helps Endangered Species
Mother's Day Gift Packs! Packaged, wrapped and ready to give to your Mum!
FREE Shipping!
**Same day delivery to the Coffs Harbour Area (within 50km of Coffs) if ordered before 2pm. Next day delivery if ordered after 2pm**
50% of profits help Endangered Species.
Each gift pack contains:
1 x Organic Rainforest Body Scrub (220g)
2 x Ethically sourced 'Little Beehive Candle Co' tea lights
2 x Organic Raw 'Deva Cacao' chocolate (Mint & Nibs, Macadamia)
1 x Organic Lemon Myrtle Tea
1 x Organic Wildlife Conservation Co patch
1 x Recycled Greeting Card featuring our famous Mum & Joey on the beach image
- Organic Rainforest Body Scrub (220g)
Made locally using organic, fair-trade ingredients.  Coconut and sea salt exfoliators, Australian native essential oils, along with locally sourced macadamia oil and fairly traded coconut oil.
-Ethically Sourced 'The Little Beehive Candle Co' tea lights
100% Beeswax Candles. The beeswax is from local, ethical bush bee keepers to create beautiful honey smelling hand made candles.

-Organic Raw 'Deva Cacao' Chocolate
 Australian made, organic, raw chocolate. It is the first tempered raw chocolate in Australia and the first chocolate naturally sweetened with the medicinal powers of 100% cold pressed Australian honey! It's delicious, ethical, good for you and has a sensational, velvety mouth feel. All of the ingredients are fairly traded and naturally free of dairy and gluten so you can relax and enjoy Deva entirely guilt free!

-Organic Lemon Myrtle Tea
Sourced from the Australian native organic lemon myrtle tree.  Loose leaf tea can be steeped and enjoyed hot or cold.

-Patch
Show your support of The Wildlife Conservation Co. with an organic cotton patch.

-Recycled Paper Mother's Day Card
Printed on recycled paper with a mother and joey kangaroo photographed in Lucky Bay, Western Australia. 
Eco Packaging :)

*If you would like to add a special message to your card, please add it to the comments. Thanks :)